Kegstar, a smart, one-way stainless steel keg and cask rental company has been named as one of the sponsors of the world's most historic international beer and cider competitions, the International Brewing and Cider Awards.
The global company is offering free-of-charge keg hire to global brewers of all sizes who are entering the competition. Any brewer who signs up as a casual customer is eligible to have free kegs delivered to their business for the purpose of sending their product to the International Brewing and Cider Awards in November. Brewers will be responsible for shipping their kegs to the event, but the kegs will be collected from the venue by Kegstar after the event.
Kegstar operates globally with hubs in the US, Australia, New Zealand, The Netherlands and the UK and specialises in smart, one-way, stainless-steel keg and cask rental. Each premium keg has its own unique identity making it easily tracked through the supply chain using its propriety, cloud-based software. Kegstar's barcode and RFID-scanning tracking technology has generated more than 22 million scans in over 10 countries by more than 1,300 customers since the business started eight years ago.
First held in 1886, the International Brewing and Cider Awards, known as the 'Oscars' of the brewing world, showcases winning brewers and cider makers, of all sizes from around the globe. The awards invite brewers and cider makers to enter their finest beers or ciders to be blind-judged by an expert panel of commercially practicing brewers and cider makers from around the world.
Ruth Evans MBE, Director of the International Brewing and Cider Awards, said: "Showcasing the very best beers and ciders from around the globe is at the heart of our historic competition so Kegstar is the perfect partner to help entrants ensure that their beer or cider arrives at our judging session in perfect condition.
"After what has been an extremely tough year for the industry, our awards are vital in celebrating the extraordinary beverages that brewers and cider makers have worked hard to perfect, ensuring they gain the recognition they deserve. We're grateful for the commitment Kegstar has made becoming a sponsor for the International Brewing and Cider Awards."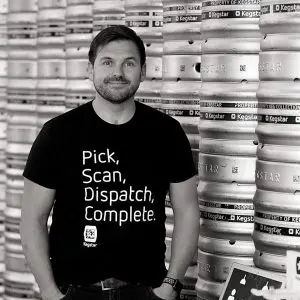 Christian Barden, Chief Kegsecutive of Kegstar's global operation, said: "Kegstar is thrilled to be doing its bit to support such a prestigious event. Our core goal of ensuring more great beverages get to more happy drinkers could not be more important than it is right now – so we were glad to be able to work with Ruth and the team at BfBi to help in any way we could. We love great beer, and so we want to give brewers the opportunity to get their beers to the event in any form they choose, whether it be draught, bottle or cans."
The International Brewing and Cider Awards will take place in November 2021 at the National Brewery Centre, Burton-upon-Trent, with registration opening on 1st July 2021.